To have a look of the new design, log in to https://my.transsmart.com
All your shipments are already there.

Ready to migrate to this new environment?
Click here to scroll down to the migration requirements or request your migration immediately via the below button.




Not ready yet?
Please leave your email and we will keep you posted on the developments.
---

What's changed?
The design of MyTranssmart has been completely changed to give you a new, but above all, improved experience. So we have lots to share, but for now we'll stick to the most visible changes.

Printing
The latest version of our SmartPrint tool has been used for 6 months in the previous MyTranssmart dashboard. The tool is received with great enthusiasm and, according to hearsay, lives up to our promises! The SmartPrint solution is stabile and much easier to work with. You'll only need to configure the print solutions once. The solution is available for Windows and macOS / OS X. Besides that, if you use a multi-tenant machine you can run SmartPrint as a Windows service.
Speed
It's twice as fast. How? We've rewritten the core code to the latest specifications.


Login
The login screen has changed and now has the password recovery feature and increased password security. This is what it looks like now:


Overview page
Searching for shipments is a one of the most used features by our clients. That's why we redesigned the overview page to give you more insight much faster!


Shipment Status– clearer insight in status due to use of colours and extra details.
Filter - newly designed filter for faster and more detailed search.
Download shipments– download your selected shipments to Excel in just one click.
Import shipments – batch upload of shipments.
Columns – select and set the order of the desired columns for your overview page.
Widescreen – maximize the table to see more columns in one overview.

Creating Shipments
Shipment creation is much easier now and we've also added multiple features. For example: when you've set a default sender address, package type and booking profile, you're now able to create a shipment only by filling out the receiver's address and a shipment reference. Here's a screenshot with some more updates to this page:


Save as concept– introducing the 'save as concept' button (also known as status NONE). Save your shipment as a concept, just like you do in your email client, and book & print it when you're ready.
Customize view – easily hide segments you don't use. (for example: third party address or dangerous goods)
Collapsed vs expanded – receiver address will always be expanded, since you need to fill that out. The other columns will be collapsed so they don't clutter your screen. Just click to easily unfold and double check the information.
New order – start with sender info, then on to receiver, package and lastly the shipping option. The most important advantage is the Carrier Select option: it was moved to the stage of shipment creation and has now become a time saver.
Overview – instantly see what's already filled out for your shipment and what still has to be done.

Shipment Status
Your shipment's status can be found by searching for the proof of delivery or tracking number. It's a completely new and detailed view with many additions! Don't worry, the usual quick actions like print shipment, book shipment, etc are still available at the top and the side of the page.


Shipment status– instantly see your shipment's status.
Carrier status – detailed information on the shipment's status (if available, carrier dependent).
Track & trace – easily copy/click to open the track and trace link.
Proof of delivery – click to see the POD information like signatures or pictures of the delivery (if available, carrier dependent).
Manage Account
Manage account has a clearer overview of the settings. Please note that some are premium features. In case you're interested in one of the premium features, please contact us for more info.
MyDetails– set your own shipping and portal defaults.
MyPrinters– SmartPrint is fully integrated in our portal for printing with less hassle. It's never been easier! Now also support for Mac and Linux.
User management – create users, set roles, set language and more.
Location and CostCenters – easily add your own stores (pick up points).
Booking profiles – create your own shipping pre-sets for faster shipment creation.

Manifest
In case you need to manifests shipments or just like to print a list of shipments to have the driver sign it at pick-up, we have created a page to do the trick for you:


Select and generate– select what you need to manifest and generate the list.
Overview– check the outcome.
Print or send – choose your action: print or send.

Reporting
Pick your selection of shipments and easily create a historic analysis. This will give you lots of insight in your shipment process. Like to have more reporting options? Please contact us for the advanced reporting features.
SmartScan user
SmartScan has been redesigned as part of the shipment detail page. Are you subscribed to the SmartScan functionality? You can now easily activate this view for your user(s) in the user admin section.
Want to know more about the functionalities and advantages of SmartScan? Please visit the info page where you can request a detailed brochure: www.transsmart.com/en/solutions/smartscan
Easy access– click here and instantly scan your shipments.
Scan your codes– scan the packing- or booking profile codes that you've created yourself and easily book, print or change the status of your shipment.
Last scans – see what actions you've taken and whether or not it's succeeded.

Need Help?
Help is just a click away: always at the top, or in the right, lower corner on every page.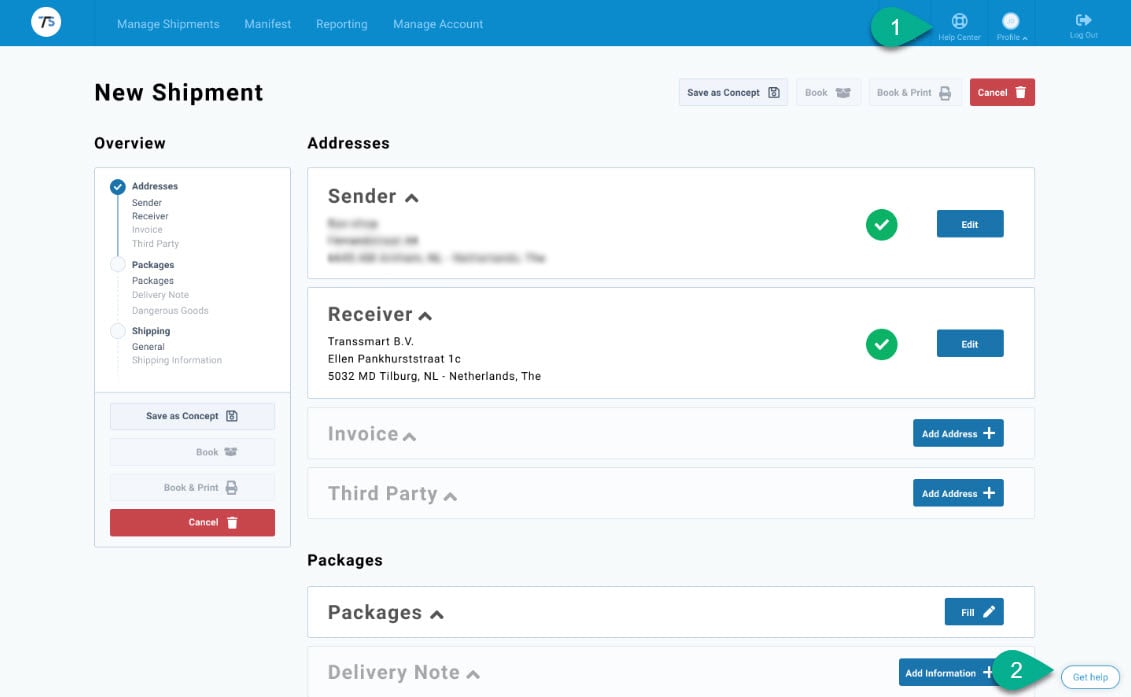 Help center– quickly and easily search the Transsmart Knowledge base.
Get help– can't find your answer in the knowledge base? Contact our support staff.

Can't wait to migrate?
MyTranssmart dashboard users
How to know if you're a MyTranssmart dashboard user: the URL in your browser when you're using our dashboard is https://my.transsmart.com
I use an ERP or WMS system to book my Shipments. Can I migrate?
Systems that work perfectly with MyTranssmart:
AFAS

AGP Trade

AMF Microsign

ASPOS

BizBloqs

Navision

BOXwise

Brickx

Conneo

Consafe

Exact Globe Prosigma

Exact Online

King

Logic4

Magento 2

Microsoft Dynamics 365, AX & NAV

SAP Business One

Sherpaan

Unit4

Wics

Xgram

XL-ENZ Reflecta

Yellowstar
When your system is listed above, you can check our customer portal to see what version or actions you'll need to provide to migrate.
In case your system isn't listed above, the MyTranssmart dashboard hasn't been tested and/or confirmed with that system yet. However, we do expect the dashboard to work with all systems.
Want to know whether or not you can migrate? Please continue reading.
Not a MyTranssmart user yet or do you have a system that's not in the list?
In case you don't work with the MyTranssmart dashboard yet, we have created a a short checklist to see whether or not you can easily migrate to the MyTranssmart dashboard.
Do you book your shipments manually in our dashboard?
No problem, you can start using the new dashboard immediately. Just follow our Quick Configuration guide.



Do you use QZ-Tray or Print Utility to print labels?
Yes | You'll need to test SmartPrint in the MyTranssmart dashboard. The configuration manual will help you out. If it works, you can migrate to the MyTranssmart dashboard.

No | You can migrate to the new dashboard. You might have to change some URL's in your system to make sure your systems connects to the MyTranssmart dashboard instead of the old one. Just follow our Quick Configuration Guide to do so.




Do you use status NONE?
If you use status NONE combined with dashboard https://connect.api.transwise.eu, your system is not yet compatible with our new dashboard. Please contact the one responsible for your system integration and / or Transsmart, since you first need to switch from our APIv1 to APIv2. More info can be found in our devdocs.

Not sure if you use status NONE? Check it by logging in and search for status NONE in the status column.
Still not sure whether you can use the new MyTranssmart dashboard? Contact the one responsible for your integration, or contact us via support@transsmart.com and we'll support you.
Note: don't forget to setup a test environment first to test the connection with the new dashboard. That way, in case something unforeseen happens, you prevent your logistics process to stop working. Better safe than sorry!
Login URL's to the MyTranssmart dashboard
You can login with the same credentials you're using now. You just have to use a different URL: